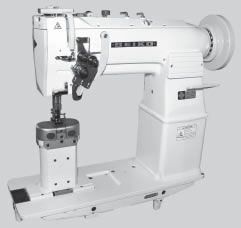 Seiko LPW Series Industrial Sewing Machine
Two needle, High speed, Post bed, Large vertical axis hook, Disengageable needle bars, Lockstitch machine
Two needle, High speed, Post bed, Large vertical axis hook, Disengageable needle bars, Lockstitch machine.
For sewing medium to heavy weight fabrics, leather, vinyl, synthetics and laminated and coated materials.
Suitable for sewing operations which require decorative or functional angular stitching such as collars, pockets, shoe uppers, automobile upholstery, etc.
We stock the following models:
Seiko LPW-27BLK
Seiko LPW-28BLK
Seiko LPW-28BLK-A
Call for pricing
To find out more about this or any of our products - free call 1300 666 887