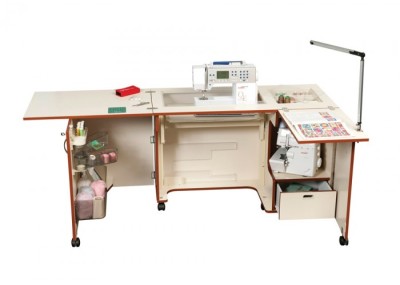 Nullarbor
Our newest addition with more leg room for your sewing comfort. The Nullarbor has a specially designed door that will give the sewer more leg room to the left and this will give you a better Centre of Needle Position.
Christmas Sale - Save 10%
Better Centre of Needle sewing position
MAXIMUM LIFTER - Larger opening for quilting and embroidery machines--cut out size is 61cm x 33cm
Unique three position lifter for your sewing machine:

stored
flat bed sewing (clear insert required to do flat bed sewing)
free-arm sewing

Handy storage for threads and accessories, all within arms reach!
On castors; so easy to move around
Extra storage for embroidery hoops and sewing machine accessories
LOCKABLE - for child safety
Deep double bottom drawer
Overlocker storage space
Overlocker flap on which to use overlocker
Built in Accessory tray with clear cover
A push is all you need to change sewing positions from storage, to flat bed, to free arm
Conditional one year warranty on materials and workmanship
Flat Bed Insert is an optional extra
Please Allow 2-4 weeks assembly time as this is only available assembled.
$1,133.10
To find out more about this or any of our products - free call 1300 666 887