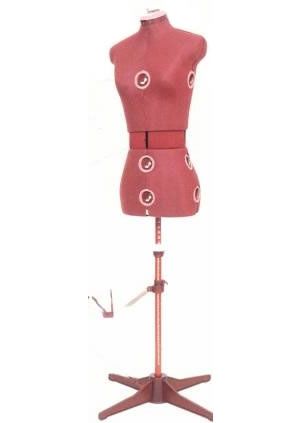 Siera and Singer Dressmaking Model 150
Siera and Singer Dressmaking Model 150 - Adjustable 8-Part Mannequin with Stand, Hem Gauge and 12 Auto-Set Dials
The Siera and Singer Dressmaking model 150 is a vital tool for dressmaking, hemming, linings and other sewing projects. It's fully adjustable, helping you to size your garments accurately and caters for pattern adjustments before cutting. This Singer mannequin allows you to set necklines, sleeves and collars easily and allows you to aim towards achieving professional looking results.
To assist you with your dressmaking and sewing tasks, the Dressmaking Model 150 has full shoulders, a handy hem gauge, 12 auto-set dials which enable you to adjust the bust, waist and hip of the mannequin with the following ranges - bust 84-100cm; waist 64-80cm; hips 86-102cm and adjustable 4-legged stand with a height range of 72cm-130cm. Furthermore the mannequin is comprised of 8 parts which enable the waistline to be lengthened when a longer back measurement is required and the neck is fully adjustable with an auto-set system and useful pin cushion.
With a lightweight and durable construction, the Siera and Singer Dressmaking Model 150 suited for small to medium sized garments and will help make your dressmaking a whole lot easier, more enjoyable and professional.
Features
Siera and Singer dressmaking mannequin
Suited for small to medium sized garments
Lightweight and durable construction
Fully adjustable
8-Part body
Adjustable 4-legged stand
12 auto-set dials
Full shoulders
Adjustable neck with auto-set system and useful pin cushion
Hem gauge
Dress model 150 will fit size 8-14
Adjustable Between These Measurements: Bust 84-100cm; waist 64-80cm; hips 86-102cm
Stand Height Range: 72cm-130cm
Colour: Red
Model: Dressmaking Model 150
Brand: Singer
Package Contents
Siera and Singer dressmaking mannequin
Stand
User guide
$199.00
To find out more about this or any of our products - free call 1300 666 887